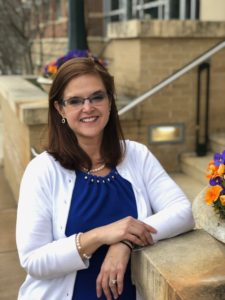 Jolie Crowder, Research and Evaluation Manager, has worked on numerous projects involving program design and implementation, qualitative research, online surveying, program analysis and evaluation, organizational needs assessments and technical and consumer writing. She also has extensive experience convening, facilitating and presenting at in person workshops, web seminars and web conferences on a variety of health care subjects.
She recently received her doctoral degree in nursing from the University of Virginia. Her research focus was elder abuse in American Indian and Alaska Native populations.
She previously served as vice president of special projects for the American Health Quality Foundation, the charitable branch of the American Health Quality Association (AHQA). AHQA is the non-profit association representing Medicare Quality Improvement Organizations (QIOs). Medicare QIOs are contractors for the Centers for Medicare and Medicaid Services (CMS) selected to assist health care providers and practitioners in improving the quality of health care for Medicare beneficiaries. During Jolie's tenure with AHQF (a 501(c)3 that she was instrumental in establishing) she worked on a number of special projects and grants, focused on health care fraud, disease prevention, diabetes education, and other quality improvement related activities. She also served as the co-director of national health care consumer protection resource center. Prior to that, Jolie worked at AHQA as the vice president of operations and education where she managed a budget of $1.5 million and oversaw implementation of three major annual national health care quality conferences. Part of her early responsibilities at AHQA included serving as a liaison to the Centers for Medicare & Medicaid Services and completing a national report that compiled and analyzed health care improvement data from 55 QIOs across the country.
She also has experience as a client case manager in the worker's compensation arena, and worked part-time with a local health system providing community immunizations, and as a nurse care coordinator for a program that provides cardiovascular health screenings.